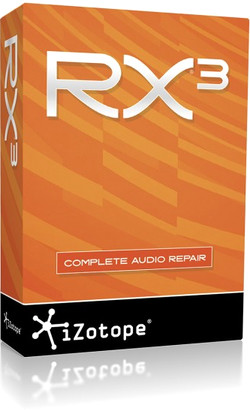 iZotope has announced RX 3 and RX 3 Advanced, a new version of the audio repair toolkit for Windows and Mac.
With the new RX 3, iZotope brings you the most robust and best-sounding audio repair toolkit on the market.

With cutting-edge tools like Dereverb and a real-time Dialogue Denoiser, plus enhanced workflows and a redesigned UI, RX 3 rescues troubled audio with unprecedented power and precision.
RX 3 features
Work up to six times faster thanks to under-the-hood processing enhancements and a redesigned user interface.
Remove or reduce reverb from vocals, instruments and more using the revolutionary Dereverb module in RX 3 Advanced.
Clean up dialogue on the fly with RX 3 Advanced's all-new Dialogue Denoiser—the new audio standard for real-time dialogue treatment.
Use both your eyes and your ears to identify and fix problems within a spectral audio editor.
Never lose an edit again with the unlimited Undo history, saved automatically with audio data into the new RX document format.
RX 3 and RX 3 Advanced are scheduled for release in September, 2013.