iZotope has announced the release of RX 7, bringing new machine learning powered features to the family of audio repair and enhancement software.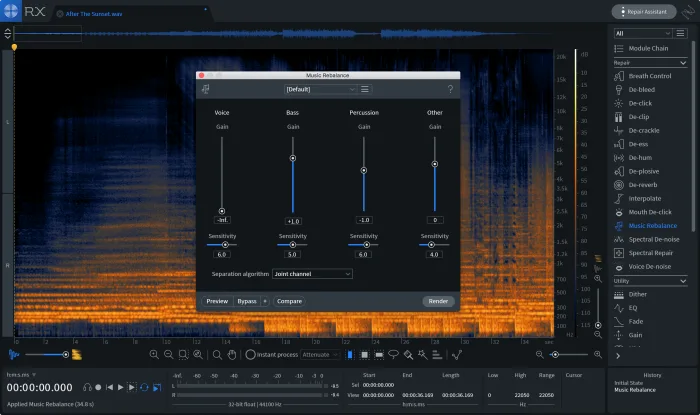 The seventh generation of RX builds on years of extensive research in digital signal processing and machine learning.

Where RX 7 Advanced and the RX Post Production Suite focus on the needs of audio post professionals, RX 7 Standard and RX Elements solve common (and uncommon) audio issues faced by musicians.
RX 7 Standard
The updates in version 7 represent the latest advances in iZotope's assistive audio technology, helping musicians speed past mundane tasks so they can focus on creative work.
Highlights include:
Repair Assistant – This industry-first intelligent repair tool analyzes audio to detect noise, clipping, clicks, and more, then offers three processing suggestions at three different intensities to help make fixes faster than ever.
Music Rebalance – Using an algorithm trained with machine learning, Music Rebalance performs source separation by intelligently identifying vocals, bass, percussion, and other instruments. A user can then individually enhance elements of a stereo audio track, making it possible to adjust a mix without multitracks.
Remove/Isolate Vocals – Create instrumental versions of songs by removing the vocal elements, or isolate the vocal to prepare a remix without having access to individual tracks or stems.
RX Elements
RX Elements has also been updated with a streamlined version of Repair Assistant, offering a single repair suggestion with a choice of three intensity levels.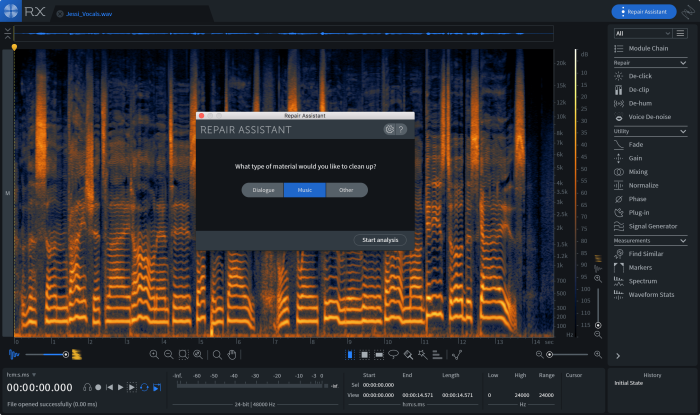 "With so many of us at iZotope musicians ourselves, we know too well how wrestling with audio problems can ruin a creative moment," comments Gerry Caron, iZotope's Chief Product Officer.

"With features like Repair Assistant, we're removing that friction in the creative process—providing tools and insight to solve your problems without sacrificing the flexibility you need to make your own creative decisions."
RX 7 Standard, RX 7 Advanced and RX Elements are now available at the iZotope website and distributor Plugin Boutique.
All new products are on sale at up to 52% off regular through October 31st, 2018. Owners of previous versions of RX can upgrade at a discount.
More information: iZotope RX