Sound on Sound has posted a video from the recent AES 2016 convention, taking a look at the upcoming Neutron plugin by Izotope.
Neutron aims to assist engineers with mixing decisions by intelligently detecting possible issues.
An industry first, Neutron's Track Assistant saves you time by listening your audio and recommending custom starting points for your track. The analysis intelligence within Neutron allows Track Assistant to automatically detect instruments, recommend the placement of EQ nodes, and set optimal settings for other modules. You still maintain full control over all your mix decisions, but Track Assistant gives you more time to focus on what's most important — your creative take on the mix.

Another industry first, Neutron's Masking Meter allows you to visually identify and fix perceptual frequency collisions between instruments, which can result in guitars masking lead vocals, bass covering up drums, and other issues that can cause a "muddy" or overly crowded mix. Easily tweak each track to carve away muddiness and reveal new sonic possibilities.
iZotope will have a special live webinar on Neutron on October 6th, at 7PM EDT. This will be hosted by iZotope's Jonathan Wyner and Matthew Hines.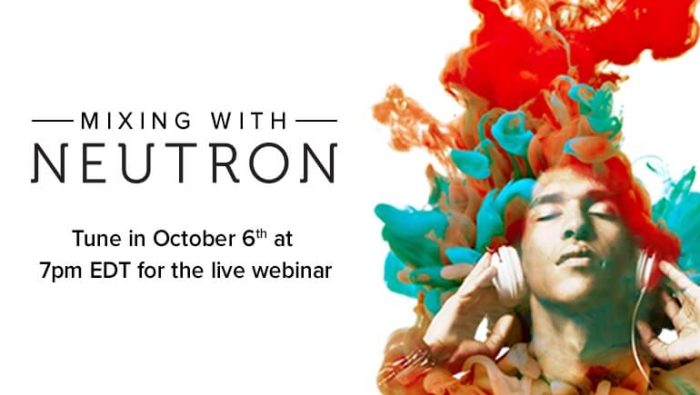 Hosted by iZotope's own Jonathan Wyner and Matthew Hines, Neutron's Product Manager, you'll get an in-depth look at how Neutron works, and how it will help you mix faster and more effectively. We'll also be answering your questions in a live chat Q&A.

Make sure you check back here for additional details and updates. See you on October 6th at 7PM EDT!
For now, you can pick up the free Neutrino dynamic processor, which features the spectral shaping technology used in Neutron.
More information: iZotope