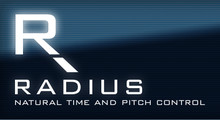 iZotope has released Radius, a new software bringing world class time-stretching and pitch-shifting to Apple's Logic Pro and Soundtrack Pro.
You can easily change the pitch of a single instrument, voice, or entire ensemble while preserving the timing and acoustic space of the original recording. iZotope Radius is designed to match the natural timbres even with extreme pitch shifts.

iZotope Radius allows you to change the tempo without affecting the pitch or tone of the performance. Instrument attacks, percussive hits, and the sound stage remain untouched, even at extreme stretches.

Using an advanced hybrid method, iZotope Radius is able to preserve transients and sustained material at the same time. For example, when stretching a recording with sustained brass and pizzicato strings, iZotope Radius preserves continuity of the brass notes as well as the timing and attack characteristics of the strings.
Radius features
Preserve transient attacks and timing accuracy.
Maintain the acoustic space and sound stage.
Unique hybrid design offers completely transparent operation.
Time stretching between 12.5% and 800%, pitch shifting between -36 and +36 semitones.
Formant correction with adjustable correction strength and correction amount for both Mix and Solo modes.
Preserves Dolby matrix encoding.
Phase coherent design preserves stereo image during processing.
Supports sampling rates up to 192 kHz.
Radius is available for purchase for $399.99 USD.
More information: iZotope