iZotope has announced availability of the latest version of its complete audio repair toolkit. RX 8 comes with new tools and improved beloved modules to help you accomplish more in less time than ever.
The update includes a new Spectral Recovery to restore discarded frequencies in speech from compressed file formats, live-streams or remote calls, Guitar De-noise to control squeaks, buzz and pick sounds from guitar recordings, a newly engineered Music Rebalance algorithm for stem separation and mix tweaking, and lots more.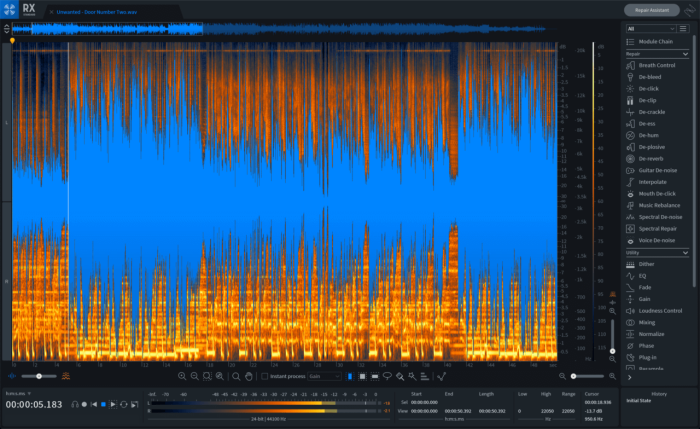 With version 8 we've added new features across the product lineup to speed up workflows and address new repair problems that plague today's dialogue and music tracks. And we've also updated the Post Production Suite to include even more tools and value, making it the definitive choice for post production.
Changes in RX 8
New: Spectral Recovery (Advanced Only) – Restores frequencies above 4 kHz, turning bandwidth-limited audio into clear, articulate recordings.
New: Wow & Flutter (Advanced Only) – Corrects pitch variations and fluctuations associated with tape, vinyl and optical transfers. Use Wow to fix longer, sustained pitch drift, and Flutter to correct pitch variances that occur at faster rates.
New: Loudness Control (Advanced and Standard) – Instantly load preset loudness targets and conform production audio to broadcast requirements in seconds, and monitor levels using the built-in numeric and history plot readouts for integrated, short-term, and momentary loudness.
New: Guitar De-noise (Advanced and Standard) – Allows refining to guitar recordings for maximum clarity in seconds. Manage sounds that can unintentionally be emphasized by the effect of compression or limiting, like electrical amp noise and interference, distracting fret or string squeaks, and harsh pick attacks.
New: 32 Audio Tab Limit (All Versions) – RX 8 doubles the previous 16-tab limit, now allowing users to view and edit up to 32 files within RX Audio Editor.
New: Horizontal Scrolling (All Versions) – Horizontal scrolling is now built into the intuitive Spectrogram Display. Use the scroll gesture on a trackpad or mouse to scroll through your audio across the X-axis for lightning fast edits.
Improved: Music Rebalance (Advanced and Standard) – Users can easily re-animate a mix, make room for scene dialogue in post, remove or isolate vocals for a remix, or even create and export new stems for further processing and mixing.
Improved: Batch Processor (Advanced and Standard) – Process many files at a time, view pertinent metadata in your audio, then apply a full series of processors with Module Chain.
Improved: De-Hum (All Versions) – Now features independent frequency reduction bands, and a redesigned, intuitive interface.
RX 8 comes in Elements, Standard, and Advanced editions, on sale starting from $99 USD until October 15th, 2020. Upgrades/crossgrades are also available at up to 50% off.
RX 8 is also available as part of the new RX Post Production Suite 5, which is on sale for $1,499 USD during the introductory period (regular $1,999 USD). Various upgrades are on sale at a discount of up to 40% off on the regular price.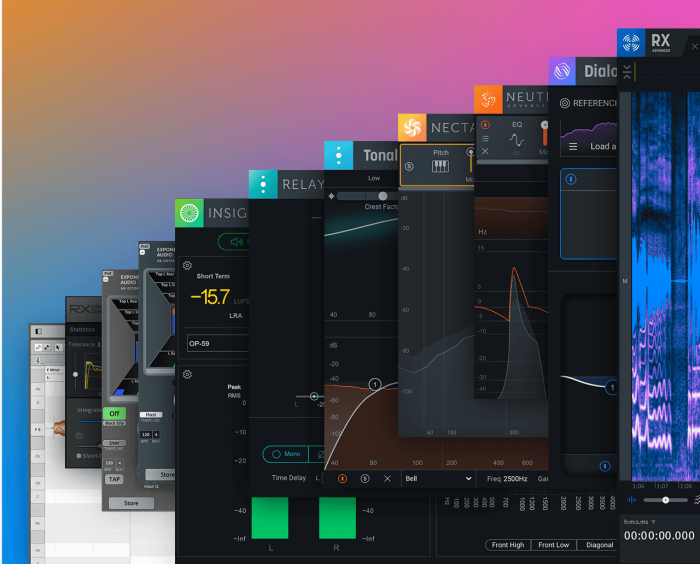 The bundle includes:
RX 8 Advanced: Designed specifically for the demanding needs of post production professionals, it features the industry standard audio repair tools used on movies and TV shows.
Dialogue Match: Transfer the EQ, reverb, and ambience profile of one dialogue recording to another for seamless audio continuity in post.
Neutron 3 Advanced: Neutron 3 brings your mixing workflow into the 21st century with tools to shape your audio and produce clear, intelligible production audio.
Nectar 3: Get your dialogue to sit in the mix with the intelligent Vocal Assistant to automatically produce dialogue-based presets, two 24-band EQs with built-in unmasking for tracks with Nectar, Neutron, and Relay plug-ins, Auto Level Mode for consistent dialogue levels, plus industry-class pitch correction with Melodyne 5 essential.
Insight 2: An extensive audio analysis and metering tool that provides you with visual information about your mix with multichannel support for Dolby Atmos 7.1.2.
RX Loudness Control: Developed specifically for post production and broadcast workflows, ensure that your audio conforms to loudness standards.
Relay: This utility plug-in allows you to control the level, panning, and stereo image of your tracks, and also enables the track to communicate with other Inter-plug-in Communication-enabled plug-ins.
Symphony 3D: Bring lush, character-filled reverb for surround and immersive formats to any post production or music project.
Stratus 3D: With more than 1,700 surround presets, up to 24-channel support, and intelligent multi-channel reverb controls, you can craft the perfect depth and dimension in your sound environments with Stratus 3D.
Tonal Balance Control 2: Make mixes that translate to any listening environment with Tonal Balance Control 2, a plug-in that helps keep music of any genre on target.
Bonus Content: a one-year, all-access pass for Groove3 video training.
RX 8 and the RX Post Production Suite 5 are available from iZotope and distributor Plugin Boutique.