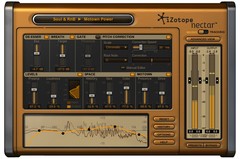 iZotope has released version 1.1 of Nectar, a complete vocal processing toolkit for Windows and Mac.
Nectar is a complete set of 11 vocal production effects combined in one plug-in that's designed to give you immediate results.

Built-in Styles get the grunt work out of the way so you can focus on the creative finishing touches.
Changes in Nectar v1.1
Reverb improvements

Nectar's Reverb has been overhauled for a better sound, including improved workflow for dialing in great vocal reverb settings. Because of these changes, users may notice that sessions saved with Nectar Version 1.0 sound different. For guidelines on adjusting the Reverb of existing sessions in Version 1.1, please refer to this knowledgebase article.

Pitch-related improvements

Adds a "Non-formant preserving" mode, which allows you to turn formant preservation on or off. Small (less than 1.5 semitone) shifts that occur in subtle pitch correction often sound better with formant preservation turned off, while large shifts will be better with formant preservation on. Tip: Turning off formant preservation is also good for special effects (like the Chipmonk and Dark Lord Styles).
In supported hosts, dragging a note in the Manual Pitch Editor now creates a color highlight to better see the target pitch of the note you're dragging.
In supported hosts, dragging a note will also produce a tone so you can hear the target pitch of the note you're dragging.
Pitch transpositions now sound more natural due to a change in the envelope shape.
Optimizations to pitch correction algorithms for faster performance.

Doubler improvements

Adds Low, Medium, and High quality modes to the Doubler module. Note that the version 1.0 Doubler was the equivalent of the High quality mode.
Doubler CPU usage is dramatically lowered in Version 1.1 (5.7x at High quality and 13x at Low quality).

Other changes and fixes

Improved host compatibility on OS X in 64-bit VST formats.
Includes the new iZotope Crash Reporter to help customers automatically submit crash reports to iZotope for rapid diagnosis and bugfixing.
In several hosts, keyboard shortcuts meant for the host are no longer "eaten" by some windows, especially in the floating Manual Pitch Editor window.
Fix to iLok authorization issue in some hosts where loading Nectar prompted an "Error: unable to open protection interface" message.
Stability enhanced in several hosts. Rare crashes or hangs in isolated hosts were also fixed.
Performance improvements for Tracking mode.
Pitch algorithm quality improvements: fixed bugs causing glitching such as stuttering, clicking, and popping.
Minor bugfixes and performance enhancements.
Nectar for Windows and Mac is available to purchase for $299 USD.