iZotope has announced an update to Insight 2, the award-winning intelligent metering and audio analysis plugin.
To ensure Insight 2.1 users can easily meet the latest audio mix specification set by Netflix, a dialogue-gated loudness target of -27 LKFS, iZotope has added a "Netflix" loudness Target.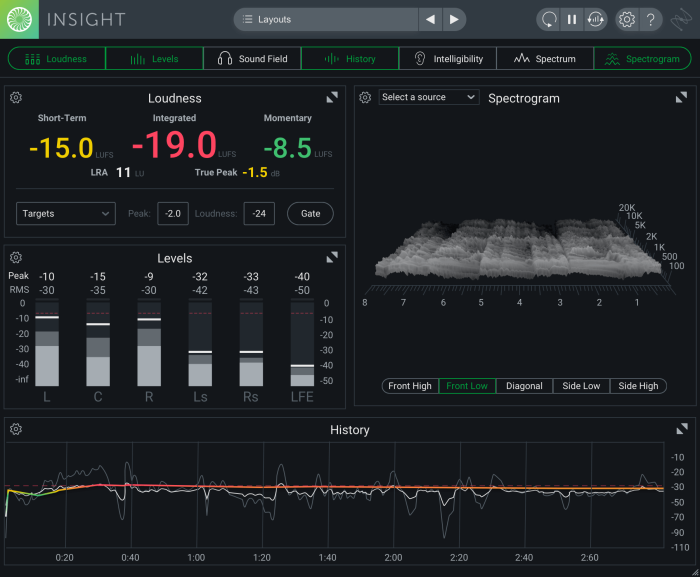 This new capability for Insight 2 will now make it easy for content producers and re-recording mixers to meet the new Netflix best practices for dialogue gating and LRA functionality. Meeting these specifications is becoming increasingly important as Netflix expands its reach into 30 international markets in more than 24 languages.
iZotope is one of the first manufacturers to provide this important new functionality to help engineers stay ahead of new content delivery specifications.
iZotope also announced that RX 7, which includes Insight 2 as part of the flagship Post Production Suite line, has won the Cinema Audio Society (CAS) Outstanding Product Award.
The Cinema Audio Society award for RX 7 recognizes the product as one of the premiere engineering achievements in the field of audio post-production and reinforces it as the industry standard for repairing and enhancing post-production audio. RX 7 was selected by the CAS membership body, which includes the most prestigious figures in Hollywood television and film sound.
"We're proud to announce this essential update to Insight 2 to help creators adapt to the changing industry landscape," says Mike Rozett, Senior Product Manager at iZotope. "We also appreciate the confidence placed in us by CAS and look forward to continuing to innovate our products to provide the industry with intelligent tools for today's post production needs."
Insight 2.1 is now available for $299 USD from iZotope and distributor Plugin Boutique.
Current Insight 2 owners can update for free with the iZotope Product Portal.