J1000 has announced the release of CL36, a free three-band soft-clipper effect plug-in for Windows.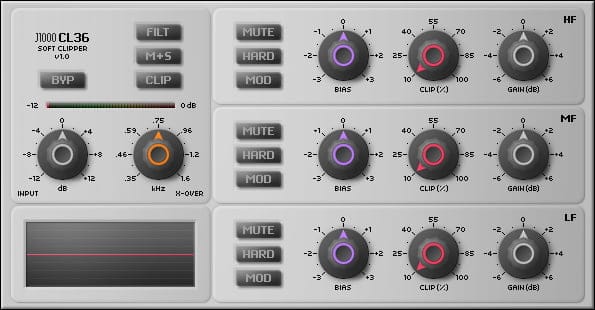 It shares the layout and crossover network with updated SX36. Each frequency range has the same controls – clipping amount and bias, output gain and modulation.

CL36 is great for taming transients of percussive sounds and generally instruments with sharp attacks and decays. It's equally useful on full-mixes for squeezing out few extra dBs.
CL36 features
Three-band soft-clipping with waveshapers.
Two waveshaping curves – normal and hard.
Additional full-range soft-clipping stage keeping levels below 0dBFS.
Waveshaping bias control with optional LFO modulation.
Mid+Side processing mode.
Output filtering of low and high ends of spectrum.
Second order (12dB/oct) crossover to preserve spectrum continuity.
Zoomable waveform display showing combined channels output.
32-bit internal precision with zero latency and low CPU consumption.
J1000 has also released version 1.5 of the SX36 three-band stereo processor, which now also features the new improved crossover network that's now 12dB/octave (before it was 6dB/oct). Note to current users: it's not fully compatible with previous version v1.1.
The plug-ins are available for download for Windows (32-bit VST).
More information: J1000