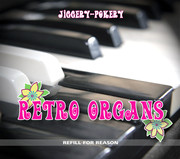 Jiggery-Pokery has updated the Retro Organs ReFill for Reason 6.
Updated for Reason 6, the three defining organs of the pre-synth era: the B3, the Vox Continental and the Farfisa Combo Compact, in one exceptional ReFill for your Reason racks. With default organs, effects and template patches from all three organ ReFills gathered conveniently into single folders in the ReFill root, this could be all the organy goodness you'll ever need!
Changes in Retro Organs v1.5
L6 FX Junkied Organs – Organ Combis with Line6s' authentic rotary speaker models (Leslie 122 and Fender Vibratone). You will need Pod Farm FX Junkie pack installed in order to use these patches. For B3 organs we have the Line 6 Horn+Rotor with a tube-amp, Farfisa organs have Fender Deluxe Head and Vibratone, while the Vox Continental organs have a Vox AC-30 Head with Fender Vibratone.
Tremorizer Rotary FX Patches – A suite of fourteen insert effect Combinators featuring dual Pulveriser Horn and Rotor effects, from more traditional Leslie emulators to bizarre-legato key-triggered speed changes, tape-effected and gated rotors.
Binson Echorec II effect – In addition to the old Binson Echorec effect, a new four-head version using The Echo.
New patches galore!
B3, Farfisa and Vox Experimental folders have new Combis featuring R6 effects devices, several with built-in effects from the Tremorizer suite, for more modern twists.
Brand new PDF User Guide for Retro Organs.
Retro Organs 1.5 is available to purchase for £39.95 GBP.
More information: Jiggery-Pokery