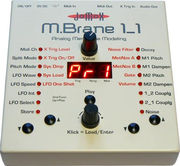 Jomox has announced the M.Brane11, an analog membrane modeling percussion synthesizer.
Two analog T-bridge oscillators become electronic membranes. Why? Because they can be coupled. And because their dampening can be controlled.

Then add a little noise, add a little envelope, and the brand new electronic percussion synthesizer of Jomox is ready.

But because this would have just been too simple, everything is storeable again and controllable by Midi. You can use this small box either in a live setup driven by a hardware sequencer or in a production as very versatile synth in order to create incredible analog electronic percussions.
M.Brane11 specifications
Instrument: Percussion Synthesizer
Membrane Oscillators: 2 T-OSC, each of tune and dampening adjustable, both couplings in either direction adjustable
Presets: 110 (10 User RAM, 100 FLASH)
Sound Engine: Fully analog with storeable parameters
Envelopes: 2 analog envelopes for membranes and noise that are controlled by one parameter (decay)
Noise: White Noise, Metal Noise with 65535 different noise pattern combinations
Gate: Trigger gate time 0.5ms-10ms, up to 4-times multi trigger possible
LFO: 8 wave forms: Saw +/-, Sine +/-, Tri +/-, Rect +/-, modulates the pitch of one or both the T-OSC, starts always syncronous to the note trigger and is pitch envelope at the same time
Display: LED 7 segment 3 digits
Midi: Midi In, Midi Out
User Interface: 1 data wheel, 1 potentiometer, 5 buttons, 16 LEDs for parameters and functions
Outputs: 1 mono out 1/4″ RCA jack
Output Level: About 0dBu
Input: External analog trigger input, sensivity adjustable
Power Supply: External wall wart adapter 9V DC
Weight: Ca. 0.5 kg, 1.1 lbs.
Size: 145x155x35mm
The M.Brane11 will be presented at the NAMM Show 2010 in Anaheim, and will be available for purchase in March/April 2010.
More information: Jomox