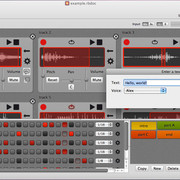 Jörg Piringer has released RealBeat, a sampler software that enables you to record sounds, cut and loop them and create rhythms out of them.
RealBeat for Mac is not a fully fledged sequencer or sound software it rather offers simple and fast access to sampling and manipulating recorded sounds live or at home. Don't expect a feature-laden software but lots of fun with your own samples & sounds.
RealBeat features
Simple interface.
Sampler (record sounds easily).
Text to Speech (let your computer speak for you).
Looping of sounds.
Modify the sound (pitch, reverse, distortion, reverb, …).
Sequencer (make rhythms).
Semi-automatic rhythm creation.
Patterns (modify the rhythm easily).
Export sounds.
Resample sounds.
Works with internal microphone (or line-in) and external sound interfaces.
RealBeat for Mac is available to purchase for $5.99 USD / 4.99 EUR.
More information: RealBeat