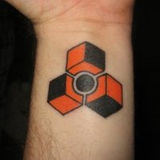 Josh Mobley wrote in to let us know that his ReFill Hybrid Aggression is now available as a free download, to help celebrate the release of Reason 5.
These are rex files that were originally created during the scoring sessions for the television show "Wanted" on TNT Networks. They make full use of the new Dr. Octa Rex in both Reason 5 and Record 1.5

It was originally sold through bandmateloops.com. Here is the original descrpition:

Hybrid Aggression is an epic and dramatic blend of positively skull crushing, hand-crafted beats full of distorted electro-attitude. Tension works on a subtle level throughout, but never at the expense of the groove. Hybrid Aggression utilizes cutting-edge production techniques in one very inspiring electro-oriented theme. This collection is equally suitable for rock, hip-hop or dance applications, though the possibilities are endless. (Produced by: Josh Mobley in conjunction with BandmateLoops.com).
Hybrid Aggression is available to download from Josh's Facebook page.
More information: Josh Mobley / Hybrid Aggression