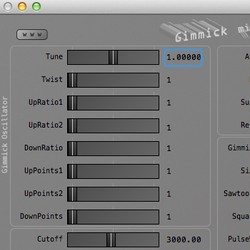 Ju-X Designs has released Gimmick Mini, a free synthesizer instrument plugin-in for Mac.
Gimmick's oscillator draws waveform by setting how many times to twist it in a cycle and then divides it by scanning up and down direction, finally player can also determine ratios of each turning points.

Gimmick synth is under ongoing development, and this Mini version has been built with basic concept of Gimmick. It is absolutely free, so try it today and experiment the new way of synthesis!
The plug-in is a free download for Mac OSX 10.7 or later (AU).
More information: Ju-X