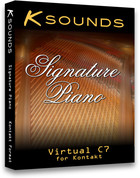 K-Sounds has released Signature Piano, a virtual Yamaha C7 for Native Instruments Kontakt 2 and 3.
For decades, the Yamaha C7 grand piano has been a mainstay of top recording studios, appearing on countless recordings and giving a host of artists their signature sound. With K-Sounds Signature Piano, the C7 becomes your signature sound. Offering pristine stereo samples throughout the dynamic range and an up-front, studio sound with plenty of sustain, this piano is designed to inspire from the first note.

Signature Piano offers a unique implementation of "damper pedal" sympathetic resonance: Independent real sampled resonance is provided, not mere convolution or digital effects. Combining this resonance with pedal-up samples and damper noises yields incredibly authentic results. And because the resonance is presented as an independent component of the instrument, pianists can pedal naturally. Even if notes are already held when the pedal is pressed, resonance for those notes will still sound.
Signature Piano features
Stereo samples up to 11 velocities.
Unlooped, full decay up to 20 seconds.
Recorded and edited at 176.4kHz, 24 / 32 bits. Presented at 44.1kHz, 24 bits.
Wide stereo image.
Edited for mono compatibility.
True sampled "damper pedal" sympathetic string resonance with independent pedal response.
Release resonance samples.
Hammer and damper noise samples.
Highly adjustable touch response.
Integrated 3-band EQ.
On / off and volume controls for damper resonance, release resonance, and noises.
Big sound with modest storage requirements.
Designed to be incredibly playable.
Signature Piano is available as a download for $165 USD (DVD version coming soon).
More information: K-Sounds