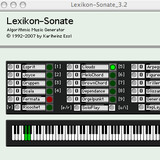 Karlheinz Essl has released version 3.3 of Lexikon-Sonate, an interactive realtime composition environment for musical composition and live performances.
Lexikon-Sonate is a work-in-progress which was started in 1992. Instead of being a composition in which the structure is fixed by notation, it manifests itself as a computer program that composes the piece – or, more precisely: an excerpt of a virtually endless piano piece – in real time. Lexikon-Sonate lacks two characteristics of a traditional piano piece:

there is no pre-composed text to be interpreted, and
there is no need for a pianist or an interpreter.

Instead, the instructions for playing the piano – the indication "which key should be pressed how quickly and held down for how long" – are directly generated by a computer program and transmitted immediately to a player piano (or the built-in Quicktime synthesizer) which executes them.
Changes in Lexikon-Sonate v3.3
Numerous improvements
Slightly changed user interface
Runs with MacOS X 10.4 – 10.6
Lexikon-Sonate is available to download for Mac OS X (10.4.11 – 10.6) – for Intel and PPC processors, licensed under a Creative Commons Attribution-NonCommercial-NoDerivs 3.0 License.
More information: Lexikon-Sonate