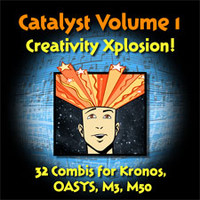 Karma-Lab has released Catalyst Volume 1, a collection of sounds for Korg's Kronos, OASYS, M3, and M50.
The first chapter in our new Catalyst Series, this collection will catalyze your creativity with a burst of inspirational jaw-dropping grooves.

Contains 32 incredible Combis for the Korg Kronos, M3, OASYS, or M50 (with KARMA M50 Software), making full use of the revolutionary KARMA function. Your keyboard (and your brain) may never be the same!

The Kronos, M3 and OASYS versions can be loaded directly into your keyboard, or used with the optional KARMA Kronos Software, KARMA M3 Software and KARMA Oasys Software. The M50 version requires already having the KARMA M50 Software.
Catalyst Volume 1 features
Emphasizing "quality over quantity," each of the 32 Combis is composed of a full 4 GEs and 8 fully-voiced Scenes for maximum variability.
Features extensive real-time control via the KARMA Realtime Controls (8 sliders, 8 switches) and the other controllers (joystick, ribbon, vector joystick (Kronos, OASYS), XY Pad (M3), 8 RT knobs or sliders and 2 switches over joystick).
Includes grooves and sonic textures in a wide variety of styles, ranging from a mixture of Hip-Hop, Dance, Trance & Techno categories to Ambient, Jazz, Classical, New-Age & World/Ethnic categories.
Each Combi is fully and meticulously documented in the accompanying 71 page User's Guide.
Programmed by Eric J. Sawyer and KARMA Developer Stephen Kay, with each combi going through a rigorous testing and quality control program to make sure everything works, and works well!
Catalyst Volume 1 is available to purchase for $32 USD.
More information: Karma-Lab / Catalyst Volume 1