KeepForest has announced the release of two new AizerX cinematic sound design libraries for Native Instruments Kontakt.
AizerX Trailer SFX Designer Toolkit offers smart samples randomization for creating absolutely unique and authentic sound effects with just one click.
The instrument comes with a massive library of fully customizable hybrid custom sound effects, including braams, whooshes, benders, alarms, signals, downers, risers, motions, noises, booms, hits, etc.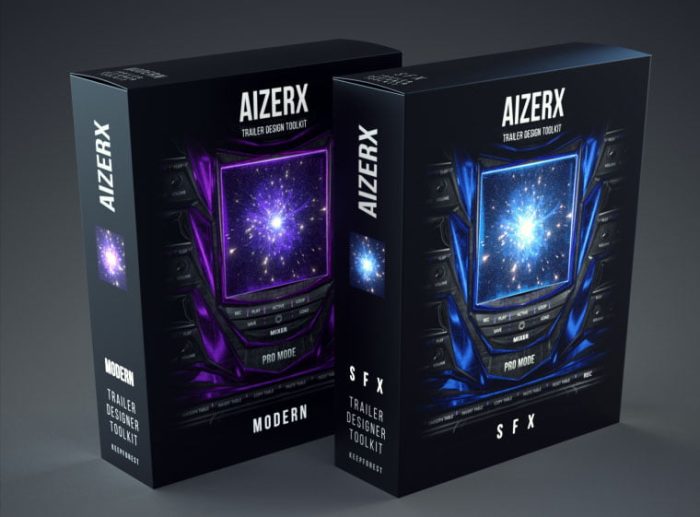 AizerX Trailer SFX Designer Toolkit also offers a deep sound customization with a lot of easy-to-use parameters like frequency filters, LFO, ADSR, sample playback modes and a breathtaking XY pad feature.

AizerX Trailer SFX Designer Toolkit is the best tool for creating impressive, Hollywood-level sound effects for your projects without having much experience in sound design.

With the participation of professional musicians, sound designers, sound engineers, we recorded strings, percussions, guitars, basses and many more instruments. We literally played and experimented in the world of sounds, creating the library's uniqueness and signature.
Unlike the AizerX Trailer SFX Designer Toolkit, which is mainly designed for the hybrid movie or game trailers, AizerX Modern Designer Toolkit delivers a collection of stylish, ultra-modern custom sound effects for the latest trending modern music genres at the moment.
AizerX Trailer SFX Designer Toolkit and Modern Designer Toolkit are available now for $399 USD and $299 USD, respectively. Requires full version of Kontakt 5.7.3 or higher.
More information: KeepForest