Kilohearts has announced the launch of Content Banks a new format that can contain presets for all Kilohearts software as well as samples, wavetables, and LFO shapes in a single, easy to install file.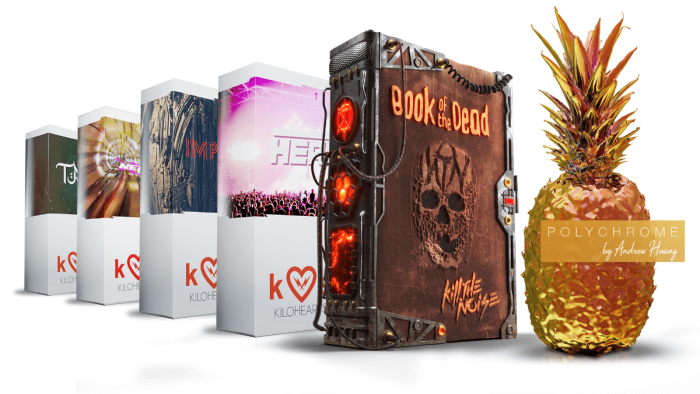 A new Content Bank store has been added to the Kilohearts website, stocking a range of incredible new Content Banks from various eminent preset designers and artists including Kill the Noise and Andrew Huang.
The following Content Banks are now available.
Andrew Huang – Polychrome: A Kilohearts content bank designed by the one and only Andrew Huang.
Featuring over 30 presets for Phase Plant and Multipass, this collection will give you a refreshing sip of Andrew's sound, his workflow, his philosophy.
Synth leads, pads, basses, FX… multiband processing for electronic or acoustic sources… the creative fun is just about to begin.
Kill the Noise – Book of the Dead: From video games and film scores to studio production and major festivals, Jake Stanczak a.k.a. Kill The Noise has done it all. With a flair for the furious and a taste for the terrifying, Book of the Dead represents a sound world inimitably of Jake's creation.
Snarling filtered basses, eerie organs, arpeggiated harpsichords, growls, screams, whoops, groans, and howls.
Every sound is expertly hand-crafted using the full power of Phase Plant to summon the spirits of departed party-goers.
Headline – by New Loops: Including soaring leads, huge synths, EDM brass stabs, woody EDM leads, and exciting sound effects, Headline is a content bank for the main stage.
If you've ever roughed out a track and then sat back listening with your eyes closed, imagining the strobes, the ocean of raised hands, the confetti, the lasers, the shots, the sun going down, coming up, then going down again, the regular core-shaking thud of the kick, the rise to the edge of ecstasy, and the epic release of the drop… you've already dreamed in the world of Headline.
Headline includes 50 Phase Plant presets.
New London – by New Loops: From Camden Lock to the Streatham High Road, from Putney Bridge to the Blackwall Tunnel, these sounds bring a New London down to earth with a kick, snare, shuffle, kick, snare.
50 Phase Plant presets on the harder, darker side of Drum & Bass, especially suitable for Neurofunk and Techstep, but also good for Jump Up.
Featuring classic-sounding patches alongside more modern, boundary-pushing ideas, New London will get you started on a deep dive underground.
Impossible – by Oddiction: Defined in large part by oddness – by lack of adherence to obvious or established dance music principles, like for example that there should be a regular beat to dance to – IDM goes against the grain.
It's often characterized as being the side of electronic music that's designed to be listened to alone, rather than danced to in a group. Forget your friends. The sound is your friend now.
Impossible includes 50 Phase Plant presets, with original sample material.
Tremor – by Arovane: Long before modern electronic music production, before even the early synthesis and sampling experiments of Musique Concrète, there was Erik Satie's Musique d'Ameublement, or "furniture music", designed to enhance, support, but not overwhelm, the natural sound and music already in the air at a particular location or occasion – a dinner or a party or a workplace.
John Cage refined, or possibly parodied, the idea in his famous composition of silence, 4′33″, allowing the ambient sounds to stand on their own.
Tremor delivers mountain tops, spaceports, ancient caves, and deep breathing with 49 Phase Plant presets.
In addition, a new v1.8.6 software update brings enhancements to the preset browsing system across all Kilohearts plugins as well as a number of new factory presets. Check the Kilohearts blog for details on what is new.
Content Banks are available to buy individually for 29 USD/EUR each. They have been added to the Kilohearts Subscription at no extra cost to the subscriber.
More information: Kilohearts