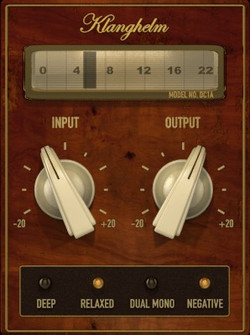 Klanghelm Audio Plugins has released version 2 of the free compressor plug-in DC1A, and version 2.1 of DC8C, the advanced compressor effect plugin.
I've just updated the popular free compressor DC1A to the compression engine of its big brother DC8C 2.

DC1A 2 offers a few more tricks than its predecessor, such as compression with negative ratios and dual mono operation. Since the sound has changed, DC1A 2 has a new plugin id, so that you're able to use V1 alongside with V2 in your projects.

DC8C has been updated too.
Changes in DC1A 2 / DC8C v2.1
New GUI(s), dedicated GUIs for each easy mode too.
New metering, much more detailed and accurate.
New dual mono switch for the easy modes.
Mac RTAS is now officially supported.
Less CPU consumption.
Removed DC offset from saturation.
Overall better handling of extreme settings.
With no oversampling selected DC8C is zero latency now.
DC1A is available to download as freeware, DC8C costs 20 EUR. The update is free for current users.
More information: Klanghelm Audio