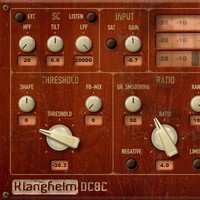 Klanghelm has announced it has updated all its effect plug-ins, including the release of RTAS versions.
I've updated all Klanghelm plugins. This is a maintenance update, which fixes some minor issues.

Also, all Klanghelm plugins are now available in RTAS format too. DC8C RTAS is only available for Windows at the moment. All other plugins have RTAS versions for OSX and Windows.
Changes in Klanghelm plugins
DC1A – the free effortless character compressor and little brother of DC8C:

Added RTAS support (OSX and Windows).
Cleaned up GUI resources.
Code optimisations.

VUMT – VU/PPM and trim plugin

Added RTAS support (OSX and Windows).
FIX: hold needle now showing up correctly in every situation.
FIX: VST3: unreadable reference level fixed.
Very minor needle behavior improvements.

DC8C – advanced compressor

NEW: RTAS support (Windows only).
Improved automation behavior.
Less CPU consumption when oversampling turned on.
Cleaned up GUI resources.
Internal code optimisations.
FIX: AU: turning HP know in SC listen mode doesn't mute output anymore.
FIX: OSX: buttons behave correctly now in Ableton Live.
FIX: OSX: value displays don't flicker anymore when turning a knob.
FIX: OSX: improved readability of the value displays.
DC8C is still available at the introductory price of 20 EUR, while DC1A remains free. VUTM is currently 6.28 EUR, it will cost 8 EUR from September 16th onwards.
More information: Klanghelm Audio Plugins