Klevgränd has announced the release of Jussi, a vocal synthesizer instrument that emulates male voice vowels in a unique way.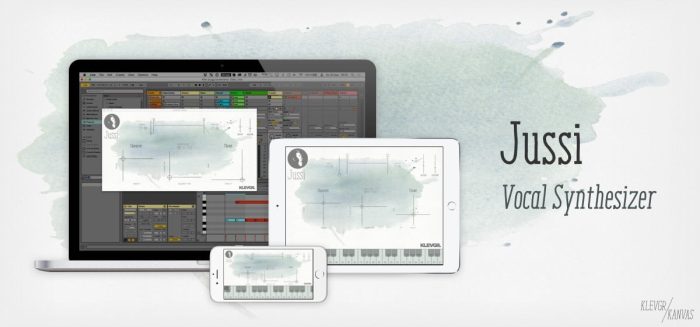 While our monophonic synth Enkl is very much loved and appreciated among its owners, we're the first to admit that it doesn't do all sounds. Which is the whole point. Our aim is to make more instruments like this, because we believe that true creativity needs a limited toolbox.

Jussi emulates a man singing vocals using pure synthesis (no samples involved). The formants are controlled by velocity, so a gentle tap on your keyboard generates a soft vocal (oo) and a high-velocity tap generates a hard vocal (aa). The result is a fun & exciting instrument that can be used in many unexpected ways!
Jussi features
ADSR with "Turn-in" and "Turn-out" option (Turn-in and Turn-out affects the pitch and maps it to attack and release).
Voice character XY pad (Intensity and Narrowness).
Legato mode (glides between notes and velocity levels).
Legato Hold mode (polyphonic legato when using a sustain controller, consult the documentation for more info).
Throat emulation XY pad (Grain and Tonality).
Built-in reverb.
Jussi is available for purchase for the introductory price of $12.99 USD (VST/AU) / $4.99 USD (iOS).
More information: Klevgränd Produktion / Jussi