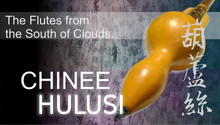 Kong Audio has announced the release of ChineeHuluSi, a Chinese free-reed wind instrument plug-in Windows.
HuluSi is a free-reed wind instrument of China. "Hulu" is the Chinese name for bottle gourd; "Si", silk, used here to describe the unrelenting characteristic of HuluSi's vibrating tail tone.

The history of Hulusi is not well documented other than that it may have been used by the ethnic minorities in the nowadays Yunnan (literally means "South of Clouds") province for a very, very long time, maybe as long as a thousand years. To-day, HuluSi is the most representative instrument of Yunnan, and in recent years it has been improved, spread and promoted both at the national and international levels, and received good recognitions.

HuluSi is especially known for its unrelenting, yet soft, tone.
ChineeHuluSi features
Contains the sampling of two HuluSi's: a big HuluSi and a small one: a Big HuluSi in G (note range: B3-E5), a Small HuluSi in C (note range: G4-A5), with various types of playing techniques woven within.
New Intelligent Legato and improved keyswitching mechanism.
325 MB meticulously produced sample sets.
ChineeHuluSi is available as a VST instrument plug-in for Windows PC (32-bit hosts only) for $60 USD.
Kong Audio has also updated all its other plug-ins with the following:
PU performance slightly optimized.
Fine-tuned pitch and velocity settings in all plugins except Chineekong V2+.
Bug fixes of the registration scheme.
More information: Kong Audio