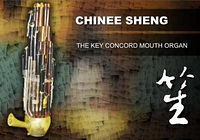 Kong Audio has released ChineeSheng, a virtual mouth organ instrument for Windows PC.
As one of the earliest and most commonly recognized Chinese instruments, Sheng, a free-reed, mouth-blown instrument, which can be traced back to at least 3,000 years ago, has withstood against time and still is a vital key piece in today's Chinese music. Sheng is also said to have inspired the creation of Accordion and Harmonica.

Sheng is extremely versatile and expressive in its own right, with a wide note ranage, as well as much the broad tonal textures, as demonstrated in our official audio demo.

Due to its portability and the polyphony nature, Sheng is also one of the few common accompanying instruments in Chinese music. It's a must-have piece for scoring a more comprehensive Chinese-themed music.
ChineeSheng features
270 MB meticulously produced sample sets.
All samples are recorded in 24 bit 96 kHz.
ChineeSheng (in D) contains various types of long tones, vibratos, spit tongues, roll tongues, chorus, and various playing expressions.
The note range is from A3–F#6.
ChineeSheng is available as a VST instrument for Windows for $60 USD.
Visit Kong Audio for more information and audio demos.