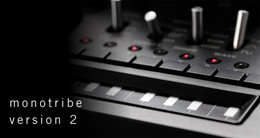 Korg has announced the Monotribe 2, a major update for the Monotribe analog synthesizer.
Announcing a major update to the monotribe analog ribbon station — the full-fledged analog synth and rhythm unit with a step sequencer inherited from the Electribe! The monotribe Version 2 adds a plethora of new features, allowing you to create sequences that are even more elaborate, or to layer complex musical developments for extended performances.

Surely one of the most exciting additions is a new synchronized performance mode that allows for new type of performance using multiple monotribe units. Whether you've never touched a monotribe or whether you're an expert who is thoroughly familiar with all of the current features, this new update guarantees that your analog groove-making will be more intense than ever before!