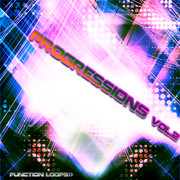 Loopbased has released Progressions Vol 2v, a sample library by Function Loops.
Progressions Vol.2 kicks again with brand new project for Cubase 5.0. This time its a commercial trance/progressive trance project.

Inside you will find the whole project arrangement, bass lines (you can see exactly which VST to put on bass to make it pumping), MIDI files and notes, separated loops and hi-hats (so you can learn how to build your own loops), effects, melodies, riffs and synth lines.

Everything is made using ONLY Cubase VST's so you don't need any other software. You can see and learn the exact EQ cuts, how to use reverbs and delays, filters and automation.

The project is simple and very user-friendly. It combines the light side of trance and the more hard elements, so you can remake it, change and take it to the direction you wish your new track would sound. There's also some bonus material included as a gift from us.

A few categories of percussions, kicks, leads, effects and synths, all in the same note as the project, are added as well so you can use them when remaking the project and getting your own unique track.
Progressions Vol 2 is available to purchase for 15 EUR. It is included in the Progressions Bundle with Vol 1 added at no cost, a 50% savings.