Korg has announced the addition of a reproduction of the Triton workstation synthesizer to its Korg Collection bundle of software synthesizer instruments.
Supervised by Triton's original engineers, the software version features the original's HI (Hyper Integrated) synthesis system, original PCM samples and effect circuits, and the subtle sound texture unique to the hardware. It comes with over 4,000 ready-to-go sound programs in an easy to use sound browser.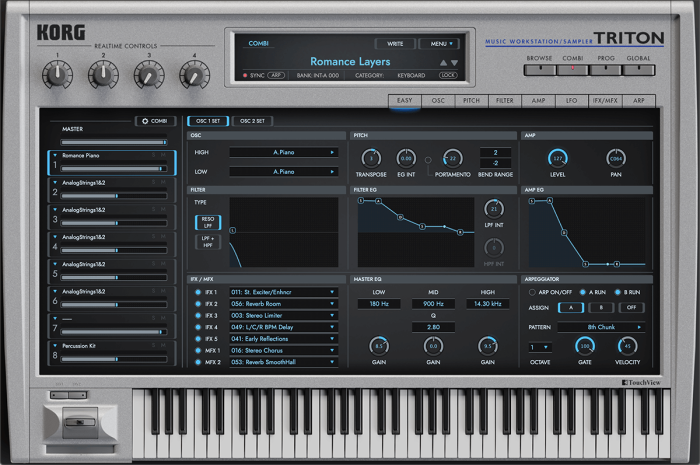 The KORG TRITON series of synthesizer workstations was first released in 1999 to accolades and prestigious awards. Top musicians around the world loved the expressive PCM sound and used their TRITONs on countless songs.

This year, on the 20th anniversary of its release, the KORG TRITON will finally be realized in software as the KORG Collection TRITON. The plug-in faithfully reproduces the HI (Hyper Integrated) synthesis system down to the smallest details and contains every one of the vast number of preset programs. Reclaim the true masterpiece sound that characterizes so many hit songs.
KC Triton features
Including eight-part multi-timbre combis, abundant PCM samples, five IFX, and two MFX, the KORG Collection TRITON is a complete reproduction of TRITON's HI (Hyper Integrated) synthesis system.
Supervised by original TRITON developers.
Over 4,000 ready-to-go sound programs.
Includes all of the expansion library EXB-PCM cards.
Features a new sound browser for quickly searching by instrument/character.
Includes an EASY mode that gives you instant access to important parameters.
Full of ready-to-go phrases with 307 dual arpeggiator patterns.
The Trition software instrument (VST/AU/AAX) is on sale for $199 USD for a limited time (regular $249 USD). It is also part of the KORG Collection Special Bundle v2 alongside Arp Odyssey, MS-20, Polysix, Mono/Poly, M1, Wavestation, and MDE-X, priced $299 USD (regular $399 USD).
More information: Korg