Kuassa has launched its best amp simulator yet. The American style Amplifikation Matchlock is an effect plugin inspired by Fender combo amps featuring the a tube simulation that offers a more dynamic natural sounding, realistic amp recording experience for guitarists.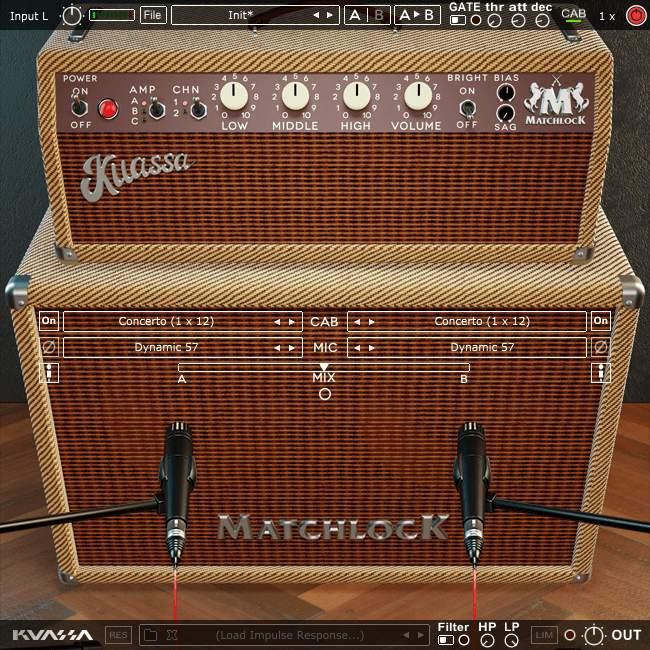 There are many great names in the history of guitar amplifiers, but there's probably nothing more influential and intriguing than the one who guides along the birth of rock n roll: Fender amplifiers. It was the choice of the pioneers of rock n roll such as Chuck Berry, Buddy Holly, Keith Richards, Dick Dale, and even The Beatles.

Amplifikation Matchlock is inspired by Fender combo amps and thanks to the 3rd gen tube simulation engine guarantees a more dynamic natural sounding, realistic amp recording experience for guitarists.

Fender amps are still hugely popular today as they've been for the last 60 years. With its thick, loud, and harmonically rich tone, Fender amps are known to be the choice for clean sound. Not only for electric guitars, but also for instruments such as harmonicas and synthesizers. Numerous guitar players also calls these amplifiers as "pedal palette": The perfect companion for tone building mastery via effect pedals. Guitarists who love to fiddle around with effect pedals will surely love these amps.
Amplifikation Matchlock features
3 amp types, taken influence from Fender's popular amps ; Twin Reverb, Super Reverb, Custom Vibrolux Reverb.
2 channels for each amp; Clean and Boosted.
Power amp Sag and Bias feature / Five types of cabinets / High pass and low pass filters.
Seven types of workhorse mics: Shure SM57, Sennheiser MD421, Sennheiser MD441, Shure KSM313, Royer R121, AKG C414, Neumann TLM103.
Freely adjustable dual-miking with mono or stereo configuration, just like a real-life guitar recording session with mix option.
Noise Gate and Limiter / Photorealistic graphics for lifelike guitar playing experience.
Straightforward and easy to use interface / Supports up to 8x oversampling.
Amplifikation Matchlock is on sale for the intro price of $35 USD / £24.95 GBP from Plugin Boutique until May 14th, 2019 (regular $49 USD). The plugin is available in VST/VST3, AU and AAX formats.
More information: Kuassa