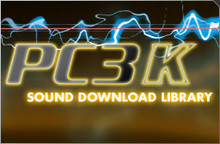 Kurzweil has released SynthScapes and Take 6 Vocals, two sound libraries exclusively for the PC3K line of Synthesizer Workstations.
Now available for free download on Kurzweil's web site, the first two collections of samples and programs available in the library are from Kurzweil's acclaimed Synthscapes and Take 6 Vocals.

Originally developed for the legendary K2 Series keyboards, these incredible sound collections have been brought forward to the PC3K series continuing Kurzweil's commitment to non-obsolescence by design. Many more samples and program collections will be provided in the near future further adding value to owners of PC3K keyboards.

These extensive sound collections were developed with painstaking attention to detail and recorded in some of the world's best studios. They helped to build the legacy of the famous K2 Series keyboards and now they're available to enhance the latest generation of Kurzweil instruments. Synthscapes provides a palette of rich, complex digital waveforms, many of which are layered together and combined with analog filters. Bearing the name of the acclaimed vocal group, the Take 6 library features numerous vocal articulations, with a variety of single and ensemble voices.
Both sound libraries are available as a free download for PC3K Series users.
In the upcoming months, Kurweil will be releasing additional sample collections online, including the Bass Gallery, Classic Analog Synths and Up From the Curb (percussion loops featuring Bashiri Johnson).
More information: Kurzweil / PC3K8 downloads