KV331 Audio has announced a new major update to its SynthMaster One iOS wavetable synth app.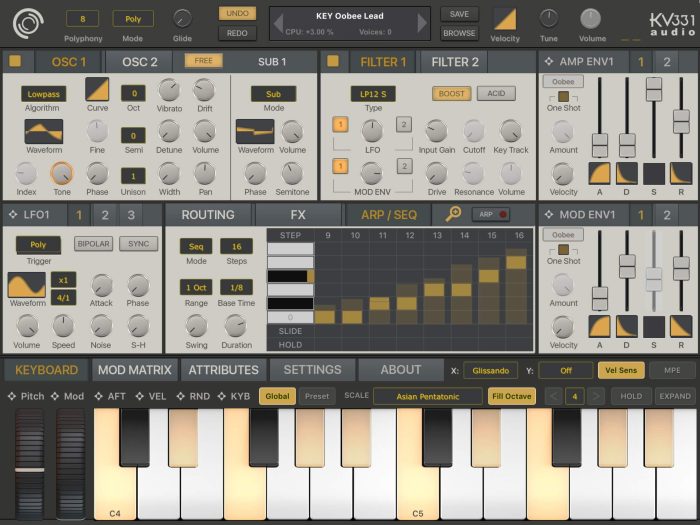 Version 1.3 goes universal, running on iPad and iPhone devices as standalone and also as an AUv3 extension.
Other major new features include new factory presets, In-App Shop, new scales, cross-platform cloud based data synchronization, new envelope types, improved micro tuning, real-time visual feedback for modulation sources & targets, files app integration and MIDI Bank/Program change support.
SynthMaster One iOS is KV331 Audio's first full blown synth app for the iPad. It's a powerful wavetable synth with an intuitive workflow. With its simple layout, rich wavetable/waveform content and inspiring factory presets library, designing new sounds with SynthMaster One iOS is a joy.
Changes in SynthMaster One iOS v1.3
Universal App running on iPhone 7 and above both as a standalone app and AUv3 synth. The iPhone version runs at native resolutions on iPhone 7/8, 7Plus/8Plus, X and XR/11.
iPhone only App with 300 factory presets and 8 voices polyphony available separately at the intro price of $1.99 USD at the App Store (regular $4.99 USD).
New factory presets (now 650 in total), including new sounds from Kurt Ader, Brian Transeau (BT), Luke Neptune, Electronisounds, Fragment Audio and Mirko Ruta.
In-App Shop in which users can purchase additional sound banks. The first IAP is "Desktop Presets Upgrade", which increases the total number of factory presets to 1,250.
Cloud based cross-platform data synchronization of presets, scales, waveforms, and favorite presets.
Public User Library where users can share their presets with other SynthMaster One users.
New Scales (now 350 scales in total), ranging from 5 note equal tempered to 12 note alternate tunings.
Real-time visual feedback for modulation sources and targets when the synth receives MIDI messages.
Improved Micro tuning. Users can now set the keyboard mapping of the current scale to either "Fill Octave" or "Consecutive". The piano display highlights the notes of the scale. Under settings tab, the scale root note and A4 reference frequency can be set.
Files App Integration allows users to import/export SynthMaster One presets, waveforms and scales using the file browser UI.
Support for MIDI Bank Change and Program Change messages to change presets. Users can easily create MIDI banks by assigning multiple presets to a MIDI Bank or by dragging a preset onto the MIDI programs list.
New Waveforms/Wavetables that come with the desktop version.
New Envelope Types: Digital, Profat and Oobee. Digital is the default algorithm in SynthMaster, whereas Profat and Oobee are new algorithms modelled after two well-known analog synthesizers.
SynthMaster One iOS is available from the App Store for $14.99 USD through January 31st, 2020 (regular $19.99 USD).
KV331 Audio will be showcasing SynthMaster iOS and its entire product line at NAMM 2020, booth #10307.
More information: KV331 Audio