Venomode has launched its new MIDI plugin Phrasebox, a phrase arpeggiator that gives you control over the playback like never before.
Phrasebox lets you turn simple chord sequences into expressive melody lines and musical phrases. Simply design your phrase in the piano roll, and Phrasebox will play back the pattern using whatever notes you input.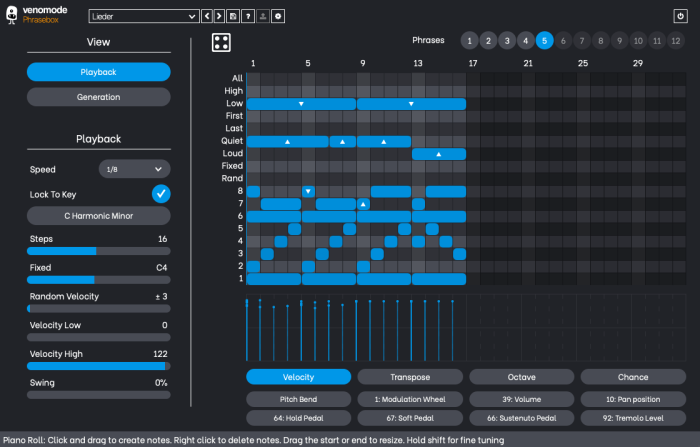 With its DAW-like piano roll, you can create expressive, layered melodies that aren't limited in timing and length compared to traditional step arpeggiators.

The notes of the piano roll correspond to the pitch order of notes, with "special" notes (like the loudest or quietest notes played), which let you control exactly which notes you want to play. It also features a lock to key option so your transposed notes are never out of key, and the included controller window lets you also send MIDI CC data out to your instruments.

Phrasebox also features generation options, so you can generate unlimited unique phrases at the click of a button.
Available in VST, AU and AAX plugin formats for Windows, Mac and Linux, Phrasebox is on sale at an introductory 30% discount until March 23rd, priced £34.95 GBP / $45 USD.
More information: Venomode