Laptoprockers has announced a bonus prize for its Eddie The Gun Remix Contest.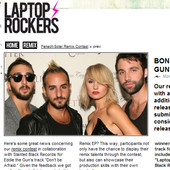 Here's some interesting news concerning the remix contest by Laptoprockers in collaboration with Slanted Black Records for Eddie the Gun's track "Don't be Afraid." Given the feedback on the contest page so far, it's fair to conclude Laptoprockers can reckon on many submissions by great participants. When they discussed this with Craig Mitchell (Slanted Black's label manager) over the weekend, he spontaneously came up with a very promising idea.

"Why not ask the three winners to also submit one of their own tracks for consideration of release on a special Laptoprockers EP containing their original tracks, in addition to the Remix EP? This way, participants not only have the chance to display their remix talents through the contest, but also can showcase their production skills with their own tracks."

Unsurprisingly Laptoprockers didn't have to think twice and immediately pinned Craig down. So they're happy to announce they have added a very tasty bonus prize to the prize pool, which by the way contains plenty of great music software and goodies already!

In addition of getting their remix released on the "Don't Be Afraid" Remix EP, the three winners can submit one original track for consideration to be included on a special "Laptoprockers EP" on Slanted Black Records.
Good luck everyone! With over a month to go from now there's still plenty of time to get your creative juices flowing! Don't be Afraid!
Visit Laptoprockers.eu for more information.