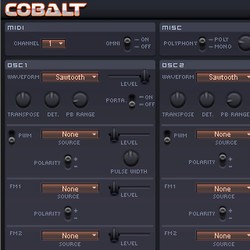 Leslie Sanford has released version 1.5 of Cobalt, a VSTi software synthesizer inspired by many of the digital synthesizers from the 1980s.
Cobalt can sound at times warm and rich while at other times cold and stark. From gentle pads to screaming leads, Cobalt's gotcha covered.
Changes in Cobalt v1.5
Added extensive MIDI Learn capabilities. You can map any CC message to any parameter either manually by choosing the CC message from a list or by putting Cobalt into Learn mode and sending it any MIDI CC message.
Added some smoothing to several parameters to minimize zippering when manipulating them via MIDI CC.
GUI code rewritten from scratch (though the UI doesn't look any different).
Cobalt for Windows PC (VST) is available to purchase for $35 USD.
More information: Leslie Sanford