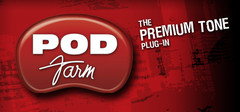 Line 6 has announced that it is giving away POD Farm, a premium tone plug-in for pro-sounding recordings.
POD Farm delivers industry-standard POD® tone to any DAW. Its comprehensive collection of immortal guitar amps, bass amps, stompboxes, studio effects and preamps are absolutely essential for any recording guitarist.

Incredibly easy to use, POD Farm features a carousel-style gear browser that displays every available model at your fingertips. Flip through the dark and smoky American combos, the gain-crazed British stacks, sumptuous effects and more. To build your tone, simply drag-and-drop models into the signal flow. Or use any of the hundreds of presets for classic tones in an instant.

Discover the awesome power of Dual Tone. It's like having two full versions of POD Farm in one! Split your guitar signal to play through two full rigs of amps, cabs, effects and more and produce classic dual tone combinations or gorgeous new hybrids.
POD Farm features
POD Farm (for iLok)

42 guitar amps and cabs
10 bass amps and cabs
29 stompboxes and effects
6 mic preamps
Dual Tone

POD Farm (with compatible Line 6 gear)

Standard POD Farm model set
Unlock all the amps, effects and model packs from your Line 6 gear and add them to POD Farm!
Dual tone
POD Farm is available as a free download until September 30, 2009 (regular price $99 USD). Note: An internet connection and an iLok USB Smart Key or a compatible Line 6 product are required.
More information: Line 6