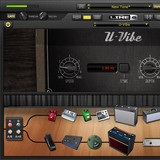 Line 6 has released version 2.0 of POD Farm, a powerful amp and effects modeling plug-in for recording guitarists, delivering the industry-standard tone of POD to your DAW.
New version 2 features include: Flexible FX Routing, Intuitive MIDI Learn, POD Farm Elements Plug-Ins, Post-Amp Mic Pres, Automation Assignments, Set Lists, and more!
New in POD Farm 2.0
Route & Roll — Route up to 20 FX models in any order, and use them simultaneously. Including post-cabinet mic preamps!
Control Yourself — Use a MIDI controller, like an FBV Shortboard™ MkII, to get complete control of POD Farm 2.
It's Elementary — Load single amp and effect models and conserve CPU power via POD Farm Elements.
Turn On, Tune In — A slick chromatic tuner interface is always at the ready.
POD Farm and POD Farm Platinum 2.0 are available to purchase for PC and Mac, starting at $49 USD.