Liqube Audio has released version 0.8.6b of its Resonic Player and Resonic Pro software for managing samples in Windows.
The update introduces vertical waveform zoom, audio extraction improvements, and several right-click menus to Resonic Pro. It also fixes a few pressing issues (track advance, tray, device selection) in both Resonic Player and Pro.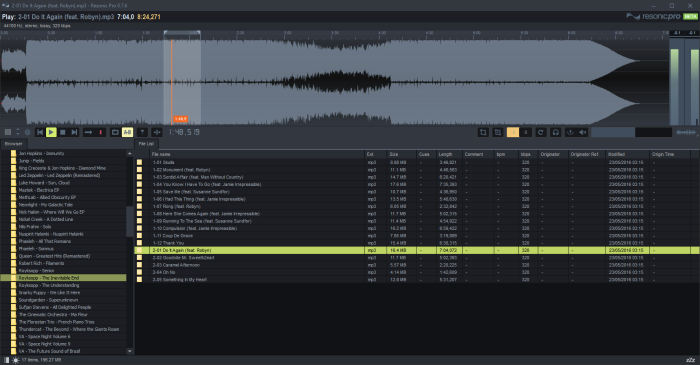 Resonic Player is a fast audio and music player, directory player, and sample browser, built around a big waveform view and a frequency analyzer.

Resonic Pro is a powerful sample manager, audio browser, and creativity tool for audio professionals that comes loaded with a unique set of inspiring and workflow-enhancing features, and an extensive metadata system.
Changes in Resonic v0.8.6b
Pro only: Vertical waveform zoom. Drag the button next to the volume bar ('1.0') up and down or use the mouse wheel to change the vertical zoom factor; click it to reset the zoom.
Popup menus now automatically close when you move the mouse away from them for improved usability. This option can be toggled via Menu | Interface.
Pro only: New sample rate conversion (SRC) quality settings for audio extraction: high/higher/maximum, or 64/128/256-bit sinc interpolation respectively. See marker button menu 'Extraction format.'
Pro only: New sampling rate settings for audio extraction: 88.2 kHz and 96 kHz. See marker button menu 'Extraction format.'
Pro only: New bit depth setting for audio extraction: 8-bit. See marker button menu 'Extraction format.'
Pro only: Solid waveform background, which is the default Pro style now (see Menu | Visualization | Waveform style).
Resonic can now be closed regardless of theClose to traysetting (force close) by using CTRL+ALT+F4, in addition to the regular ALT+F4.
Info bar now shows additional information for DSD files (.dsf/.dff).
Pro only: Right-click menu for stop button. Lets you fade out and stop the current track, or disable fade outs on stop for immediate stop behavior. (suggested: PHM)
Pro only: Right-click menu for play/pause buttons. Lets you disable fades on pause for immediate pause/unpause behavior, and disable the temporary dimming feature accessed by holding down the SPACE key while playing which makes it more reactive.
When the filter panel is open (CTRL+F, or F3) the F3 key can now be used to cycle through the filtered results just like in a text editor. Use SHIFT+F3 to reverse the cycle order.
Pro only: Default sample rate conversion quality set to maximum (256-bit sinc.)
Subtle highlighting of black keys in musical spectrum. Note that the Pro version shows the key names (e.g. 'C# 3') on mouse hover as well.
Pro only: Showing lines separating individual channels (channel lines) by default (see Menu | Visualization | Waveform style).
Pro only: Improved text visibility for pitch buttons.
Selected audio devices are saved immediately upon selection now.
Fixed: Automatic track advance sometimes failed when using a WASAPI output driver.
Fixed: Track would not advance automatically after seeking when player was stopped.
Fixed: FixedMinimize to trayandClose to traynot being saved correctly, two casualties of last version's configuration system rework.
Fixed: Wave files with AC3 header and content were not being played properly on Windows 7 and Windows Server.
Fixed: Waveform display issues with FLAC files on certain systems.
Fixed: Temporarily reverted back to previous version of FLAC plugin/decoder (the new plugin can be selected manually in the setup version of Resonic.)
Resonic Player is available as a free download for Windows; Resonic Pro (Early Access) costs 69 EUR.
More information: Resonic