LiquidSonics has announced the release of its latest modulated true-stereo convolution reverb: Reverberate 3.
Loaded with effects and modulation options ranging from the subtle to the sublime, the plugin is a powerhouse of creative potential that can take impulse responses to new highs.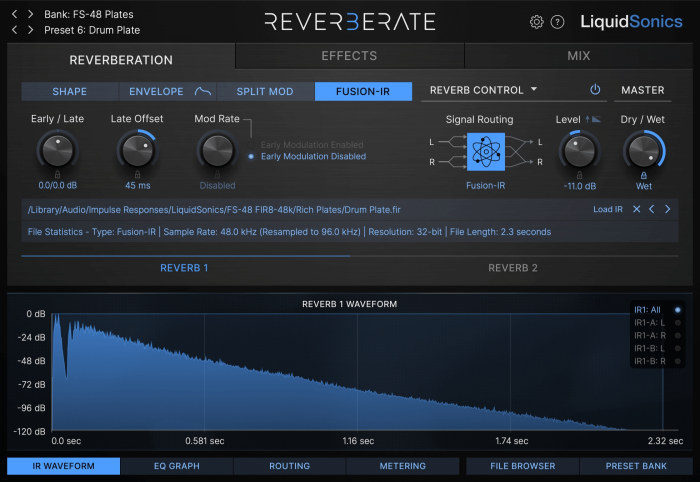 It features a wealth of editing and modulation tools that can refresh and enliven any third party stereo and true stereo impulse responses. Take your captures closer to their original hardware than ever before, or so far away that they become almost unrecognisable.

A cornerstone of Reverberate 3 lies in LiquidSonics' own proprietary modulated capture and playback technology format called Fusion-IR. It is an innovative approach to convolution capture and playback creating a lively, organic reverberation that is impossible to achieve with traditional static convolution.
Reverberate 3 features
Deeper Fusion-IR Editing: New in Reverberate 3 is the ability to independently adjust the late reverb pre-delay without disrupting the integrity of the sampled reflections.
Enhanced True Stereo Simulation: Now in Reverberate 3 you can modulate the simulated crossfeed channels bringing them to life in way you may have never thought possible without impacting the essential structure and onset characteristics of the sampled reverb.
Extended Split Modulation: Reverberate 3 features pitching and non-pitching delay and time modulation features so you can apply dramatic or natural modulations to any static impulse response.
Completely redesigned interface: Improved hierarchical design, supports high DPI, and is now resizable.
New factory presets: Two extra free Fusion-IR sample packs available for download (FS-24x and FS-48)
More comprehensive parameter locking throughout the interface.
VST3 now supported.
Licensing now via iLok USB, Cloud and local host (including two activations per license).
Reverberate 3 (VST/VST3/AU/AAX) is available at a new permanent lower price of $99 USD (down from $125 USD).
Owners of Reverberate Core, Reverberate 1 or Reverberate 2 get a 50% discount off Reverberate 3. Offer available at any time. Customer who have purchased Reverberate 2 on or after June 1st, 2020, are entitled to Reverberate 3 via voucher emailed to original purchase email address. This offer expires October 31st, 2020.
More information: LiquidSonics