Loopcloud has announced availability of Loopcloud 5, the latest version of the app and plugin that lets producers slice, edit and pitch millions of samples.
The software also allows you to audition loops, make crucial edits in real-time, organize and analyze your own sample collections, alongside sounds by Loopmasters and their partners.
The Loopcloud 5 update comes with plugin instruments, effects and cloud storage. Matt Pelling, founder and owner of Loopcloud said:
"With Loopcloud 5, producers will be able to push the boundaries of music production. We're enhancing the creative journey for producers, whilst making sure that the process is fun.

Sourcing, auditioning and editing sounds couldn't be any faster. Essentially, every part of the software is designed to inspire creativity and encourage originality."
The software will help producers create original sounds – faster than ever. The latest release includes two new plugin instruments: Loopcloud Drum and Loopcloud Play.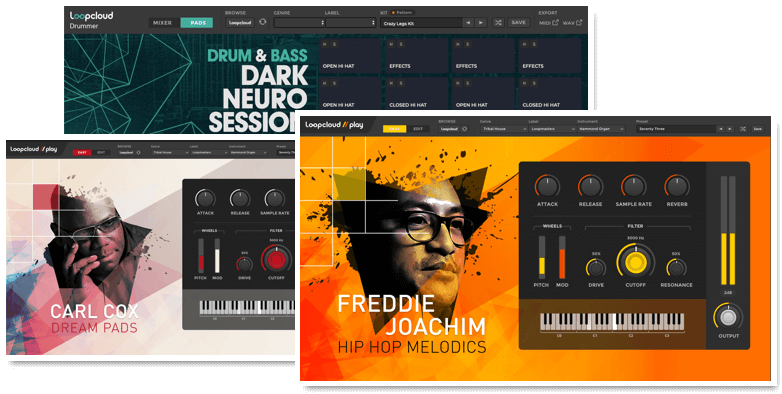 These collections contain thousands of sounds and instruments which have been curated by top artists and exclusive labels.
Loopcloud's brand new interface has a compact view, ideal for split-screen use. The updated software allows users to search for sounds whilst they work – without breaking their flow. They can also try out effects and edits on samples whilst auditioning them. Importantly, they can do it before purchasing.
All Artist, Studio and Professional users will have storage space within the system, saving valuable space on their hard drives. The producer's entire sound collection can be tagged along with the rest of Loopmasters' extensive catalogue. Every sound they need – all in one place. A browser-based version of Loopcloud will be released soon which allows users to log in from anywhere.
Loopmasters, the parent company of Loopcloud, has also teamed up with Beatport: the world's leading digital music store for DJs. Later this year, Loopcloud will be available directly from the Beatport website.
Loopcloud for Windows and Mac is free to download. You can try Loopcloud Studio for 30 days for free and downgrade or upgrade at any time.
More information: Loopcloud