LoopLords has announced the release of 4 new free sample packs, including 80s drums, Akai Tom Cat samples, urban samples and the complete Texas Instruments Vocaid sample set.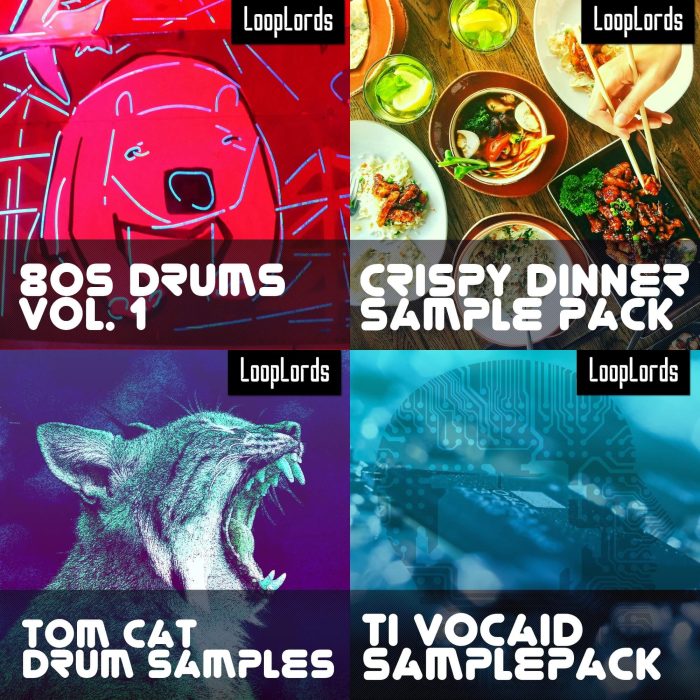 New LoopLords packs
80s Drums Vol.1 is a collection of drum sounds sampled from 8 different drum machine from that era. The samples are high quality 24 bit sounds recorded directly from the machine themselves. All the sounds have been perfectly edited and are ready to use in your DAW of choice.
Crispy Dinner is a collection of high quality electronic samples featuring reese abrasive bass & various high quality percussion. The reese bass samples include loop points and are tuned at C. The percussion samples have been edited to perfection.
Tom Cat Drum Pack, a set of Akai Tom Cat drum samples. The Tom Cat is a genuine analog drum machine with a very thick sound. Provided in the pack: 2 x Kick, 1 x Snare, 3 x Toms & 1 x Closed and Open Hats.
TI Vocaid Sample Pack is a sample library of all the sounds that the Texas Instruments Vocaid can produce. The Vocaid was an electronic device aim at people who can't talk due to a health problem. It sounds like a Speak & Spell & Stephen Hawking.
The sample packs are available to download for free. Donations are welcome.