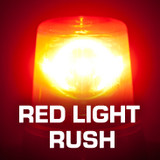 Loopmasters has announced the Red Light Rush, a limited time deal offering double virtual cash on each purchase.
The Xmas Season is in full gear now. There's green and red all over the world and shopping is the thing to do… That is, if you haven't got tracks to make. If you do, however, we can help with our Red Light Rush! It's as red as Rudolf The Reindeer's nose and Santa's coat…or simply as red as HOT!

For the first three weekends of December 2009 you will earn DOUBLE Virtual Cash on each purchase you make at Loopmasters.

When you make a purchase at our Sample Boutique, you will be awarded Virtual Cash worth 20% of your purchase, instead of the regular 10%. The Red Light Rush starts tonight at midnight and you will have 48 hours to complete your purchases. Use the Virtual Cash you earn to discount your future purchases. Or even to pick up sample libraries for FREE if you collect enough VC!
Please note that you need not download your pack during any of these weekends, only the date of purchase counts. You will have the product stored in your profile and accessible any time for download.
More information: Loopmasters