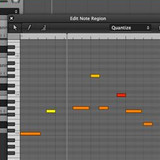 PowerFX has announced the introduction of 3 synths, a drum machine and a noise generator for everyone to use in their web based sequencer, Soundation Studio.
The addition of instrument channels adds a whole new dimension to making music on the web to go along with the existing sound tools in this innovative application, like 400 loops, 9 real time effects and publish to web functionality.
New virtual instruments
Simple

, a 4 oscillator synth with Saw, Square, Sine and Noise waveforms complete with Amp and Filter envelopes.

Mono

, 2 oscillator synth with a mix pot to blend the saw and square waveforms.

SuperSaw

, 7 oscillators with Detune, Spread and Amp envelopes.

Drum Machine

, with 8 classic 808 style sounds and individual drum sound settings for Gain, Pitch, Hold and Decay.

Noiser

is a white noise generating synth with an Amp envelope for the romantics in us all.
Note clips and a side chain emulator called "Fakie" are other new developments to Soundation Studio.
More information: Soundation