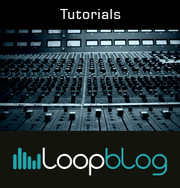 Loopmasters has announced it is looking for tutorial content for publication on its blog.
We're looking for talented content producers to share your expert knowledge of music production with our pro audio audience. We're eager to receive your 'Written Music Production Tips' today.

Submit a short written text and image tutorial (500 words max) and get a custom link back to your site and your choice of ANY 2 Loopmasters products for every article approved.

If you've already submitted a tutorial and not heard back from us, please bear with us as we'll endeavour to answer all applications within 7 working days of submission. We keep your text tutorials on file and aim to publish on the nearest available date within our release schedule.

We accept tutorials on all aspects of music production including DAW tutorials for Ableton, Logic, Cubase, Reason & Record, FL Studio and ProTools, music theory, processing & effects, and general music production techniques. If you feel you have something valuable to share to the music production community, we want to hear about it!
More information: Loopmasters