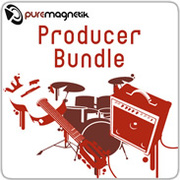 Loopmasters has released The Producers Collection, a collection of 6 Multi-Sampled Instruments in Kontakt 3 and Ableton Live formats.
Producer Bundle is a one-stop resource for Puremagnetik's sophisticated collection of acoustic and electric instruments.
The Producers Collection features
Purple Kit – Purple Kit was hand-built to specifications designed by Puremagnetik emphasizing funk and hip hop drum sounds. Using the finest quality Keller® Maple drum shells, Purple Kit was constructed to be a unique drumset unlike any other currently available.
PM Mark One – Fender Rhodes™ electronic piano. This Micropak includes a 73 key multisampled Rhodes and over 60 audio loops played by professional jazz, funk and R&B keyboardists.
Technosphere – A sound design toolbox of over 100 soundscapes, transition effects and ambiances. Searching for the sound of lizards thinking or Martian zenox explosions? Look no further!
Guitar Rack Volume 1 – Guitar Rack is a unique soundset of guitar based instruments, riffs and amplifier effects as recorded from a Stratocaster. Included in this release are also plenty of ready-to-go Ableton Live Clips complete with effects and Macro programming. With over 20 new amp and effects modules to choose from, users can customize their guitar tone extensively. Guitar Rack for Kontakt includes a huge assortment of looped .nki files and chord menus. The Kontakt version also includes a custom KSP user interface panel for tweaking the most common parameters like tube drive and tone.
Guitar Rack Volume 2 – Acoustic guitar instruments and loops. Puremagnetik has taken the Guitar Rack series to the next level! Guitar Rack Volume 2 – Acoustic Edition contains an assortment of immaculately captured acoustic guitar chord menus, articulations and looped phrases. Customized for Ableton Live 7/8 and Kontakt 3 Guitar Rack Volume 2 is immediately playable out of the box. Both Ableton Live and Kontakt versions contain extensively programmed integrated effects and dynamic controls for easy editing and tone sculpting.
PM-200 – Wurlitzer electronic piano multisample instrument. The Ableton Live Pack version includes the complete PM-200 multisampled instrument, fully Macro mapped with modulations and multiple effect options. The included loop library is automatically imported into Ableton's library as Live Clips for easy access and file management. The Kontakt version of PM-200 includes a customized skin and KSP scripting for easy tweaking. Both full and "light" versions of the PM-200 are included. Special .nki format audio loops can seamlessly be loaded up in Kontakt for instant session tempo sync – no need to timestretch or compress.
The Producer Bundle is 2GB in size and is available in Ableton Live 7/8 and Kontakt 3 formats, priced at £39.95 GBP.
More information: Loopmasters / The Producers Collection