I am pleased to announced that Søren Hybel aka Luftrum is offering rekkerd.org readers a chance to win some of his most excellent soundsets.
I recently reviewed the Luftrum 9 soundset for Diva, which impressed me greatly.
For those who are unfamiliar with Luftrum:
I am Luftrum. Sound designer, field recordist and electronic experimentalist. I have created presets for synthesizers by Steinberg, Roland, Moog, Camel Audio, Propellerheads, Xils Lab and U-He to mention a few.

I work freelance for audio companies besides releasing my own soundbanks.
I worked with Camel Audio on the Luftrum:Ambient soundbank for Alchemy containing 150 ambient presets. I also worked for Steinberg on their Zero Gravity expansion for Padshop Pro. Ambient pads and sounds are my trademark.
You now have a chance to win a copy of the Diva soundbank, or a Reason Ambient Bundle.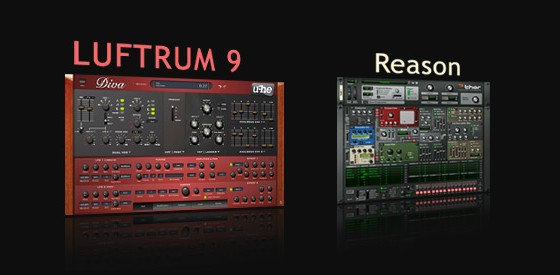 Luftrum Giveaway
1 x Luftrum 9 for DIVA
64 presets ranging from smooth ambient pads to gentle arpeggios, berlin school sequences and synth emulations inspired by Tangerine Dream, Kraftwerk, Royksopp and Jean Michel Jarre.
1 x Reason Ambient Bundle, which includes:

Luftrum 1 – 66 Ambient patches for Thor with 10 Signature patches by Deepspace.
Luftrum 2 – 69 Ambient pads, soundscapes & drones for Thor.
Luftrum 3 – 95 Dr.Rex loops (318 MB) + 45 Ambient pads for Thor. Old movie conversation, soundscapes and drones, field recordings etc.
Luftrum 5 – ISHQ Signature Soundbank + 64 Ambient pads for Combinator and Thor, including standalone wav and rx2 files of the ISHQ soundbank.
For a chance to win, simply leave a reply on this post and tell us whether you would want the Diva soundset or Reason bundle. For each, a lucky winner will be chosen at random from all replies.
Dec 26th – Luftrum has just doubled up the prizes. There are 2 Diva soundsets and 2 Reason bundles to be won so we'll pick 4 lucky winners in a few days!
The giveaway ends December 31st, 2012, 11.59pm CET. The winners will be announced shortly after. Good luck!
More information: Luftrum