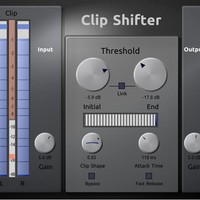 LVC-Audio's entry to the KVR Developer Challenge 2012 is Clip Shifter, a plugin designed to provide saturation and clipping effects to your audio.
This can be useful for individual tracks such as kick, snare, room mics, bass, etc.; on mix busses such as drums; and on overall mixes. The sonic characteristics of the clipping distortion can be altered from hard, brickwall-style clipping, to softer saturation with compression.

The threshold controls for Clip Shifter's clipping dynamically responds to the transient characteristic of the incoming audio. Distortion/Saturation can be selectively applied to part of the audio signal.
Clip Shifter is available as a Windows 32-bit or 64-bit VST plugin.
More information: LVC-Audio