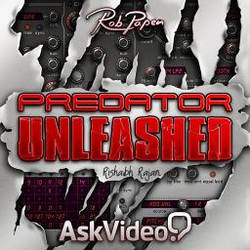 macProVideo has introduced Predator: Unleashed, a video tutorial by Rishabh Rajan for Rob Papen's Predator virtual synthesizer instrument.
Beware! There's a Predator on the loose! Gratefully, Rishabh Rajan is here to tame this ravenous, Rob Papen synth and show you how you can get it producing those rapacious sounds that'll transform your tracks into true monsters.

At first glance, Predator is a beast of a synth! But don't worry because – starting with the first tutorial in this course – Rishabh Rajan explains how all those knobs and parameters are visually linked and functionally organized to produce Predator's leviathan sonics!
Predator: Unleashed is available to macProVideo subscribers. A HD download costs $19.50 USD. Use coupon code 13aug25 at checkout to get 25% off (offer valid until August 7th, 2013).
More information: macProVideo / Predator: Unleashed