Time+Space has announced August Extras, offering free products with a purchase of selected plugins and instruments.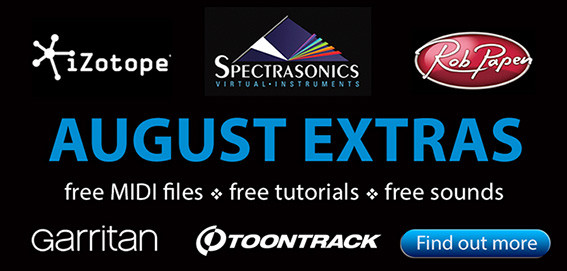 Throughout August, Time+Space are giving customers one or two extras completely free with selected virtual instrument and effects plugin purchases.

From Groove 3 tutorials to free downloadable expansion packs, now's a great time to expand your virtual studio and buy that longed for instrument or plugin.

Buy Spectrasonics Omnisphere and you'll automatically receive the Groove 3 Omnisphere tutorial video plus Ilio´s EDM Fire expansion pack for free!

Been meaning to dive into the world of Toontrack EZkeys? Buy Grand Piano, Upright Piano, Classic Electrics, Retro Electrics or Essential Pianos and not only will you get a free download of Groove 3's EZkeys tutorial video you'll also receive a code to download an EZkeys MIDI pack of your choice worth £19.95!

Plus, buy any of the following titles and you'll get the related Groove 3 video tutorial for free…

Spectrasonics Trilian
Toontrack Superior Drummer
Garritan Instant Orchestra
Garritan Personal Orchestra 4
Rob Papen Predator
iZotope Iris
iZotope Nectar
iZotope Ozone 5
iZotope Alloy 2
iZotope RX2
iZotope Insight
iZotope Trash 2
iZotope Stutter Edit

And finally, the Time+Space Loyalty scheme means you'll receive an extra discount off your next purchase when you spend over £100.
The promotion ends August 31st, 2013.
More information: Time+Space