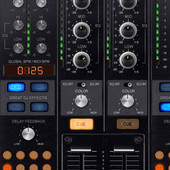 Maffialife has released V-DJM 2ch, a free virtual DJ mixer for audio host applications.
V-DJM 2ch is a virtual 2ch mixer with dj functions. It reproduces the best features of the professional dj mixers in any audio host applications (it was designed to be use specifically for Ableton Live) that support VST technology.

V-DJM reproduces the "touch" of real mixers with its realistic design that gives you the sensation to mix your audio track on a real dj mixer. It can be used as an internal mixer in your host audio applications with the sound and the feeling of a dj consolle.

Sliders and knobs reproduce the typical dj mixers eq bend and volumes and this make your mixes sound more natural and warm. All controls of V-DJM can be midi-mapped and automated (Yes, just map controls and you can use your favourite midi controller!)
V-DJM 2ch features
2 Ch-Line mixer with slider and eq, 2 Ch-Mic mixer with eq.
4 Great Dj Effects for Line channels: Reverb, Sweep, Delay with feedback knob and bpm-sync selector, Filter with Cutoff and Reso Knobs.
LCD display with host bpm.
Cue function for pre-listening.
Cue Level Knob and Cue Mixing knob (Cue/Master).
MIC-Line and MASTER Led-meters.
2 Ch-line Bypass switches.
2 Ch-line Equalization Bypass switches.
2 virtual Line Stereo Inputs, 2 virtual Mic Stereo Inputs.
1 Stereo Master Output, 1 Stereo Cue Output.
V-DJM 2ch for Windows (VST) is available as a free download for non-commercial use.
More information: Maffialife