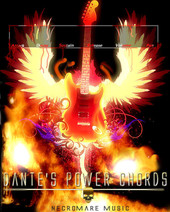 Necromare has released another batch of free sample-based VST instruments for Windows.
New Necromare plugins
Dante's Power Chords

– A simple collection of muted and open powerchords. The keys are velocity triggered for each sound. On either end of the keys you will find guitar sounds mixed with demonic growls.

Deep Space Explorer

– Great for space or ambient music this VST comes with instruments to make a complete song, all accessed via a drop down menu.

Bang

– a collection of everyday obects in a percussive form. Drum map for easy navigation included.

Broken Toy

– Old toy gets new life as circuit bent instrument.

Jazz Trumpet

– Great solo instrument in its own right. Velocity sensitive, including muted trumpet and fx.

Bongoes

– The lower registers are a set of dry bongos, the upper keys are wet.

Celtic Harp

– A very pretty version of this beatiful irish instrument. sound great with soom room reverb.

Koto

– This graceful instrument is reproduced here.

Mandolin

– Exotic instrument with a nice string sound. Try and replicating the style of this instrument warning: Keep the sustain low.

Turntable

– Recordings of various sounds from a turntable. Keyboard map included.

The Audience

– Foley sounds, including laughter, boos, stomps and cheering.

Bent Furbie

– Various bent phrases and effects scattered along the keyboard. Great if you into glitch or Bent music. The controls are represented as small dots.

PONG!

– the simple but memorable blip sound from the PONG arcade video game.

Speak and Teach

– 8 octaves of samples from speak and spell toys, great for dance, electro, art, industrial, glitch…
These Necromare plug-ins are available to download at no cost.
More information: Necromare