Magix has announced the release of ACID Pro 8, the long-awaited return of the loop-based DAW for Windows that kick-started a revolution in music production.
Its first major update in ten years, ACID Pro 8 comes with more features, more power and more plugins but the same easy workflow. Dozens of new instruments and effects line up with 12 GB of all-new content to give you everything you need for your music making, in whatever genre you produce.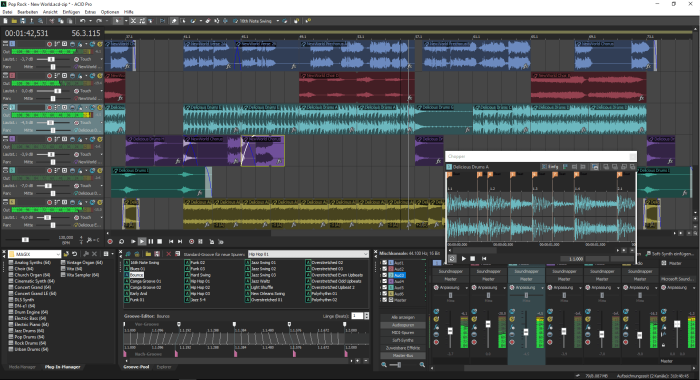 MAGIX Software has completely overhauled the software that revolutionised loop-based music making 20 years ago and has added many new professional features, dozens of new instruments and effects and an all-powerful 64-bit architecture. Yet with a brand new, sleek and modern interface and its innovative loop-based compositional environment, the software retains the easy workflow that it is famous for. ACID Pro has been revitalised for today's creative artist and producer but it is as easy to use today, as it was 20 years ago.

The last major update to ACID Pro, by the previous owner Sony Creative Software, was in 2008. ACID Pro 8 not only represents a major upgrade of the software, but demonstrates MAGIX Software's commitment to the brand going forward – indeed the company will be adding VST3 support in a free update later this year. ACID Pro 8 is sure to please both its large and loyal fanbase – which MAGIX consulted with for many of the new updates – and also new users looking for a creative DAW that marries top-spec features with ease of use.
New in ACID Pro 8
A modern, sleek and inspiring interface.
Powerful 64-bit technology.
Flexible 24-bit, 192kHz multitrack recording.
Innovative loop-based composition.
Advanced MIDI and audio editing features.
$1,000 of new plug-in instruments and effects.
9GB of all-new ACIDized loops.
ACID Pro 8 is available now for $149 USD. Users of previous versions of Acid Pro can upgrade for $99 USD.
Magix has also announced ACID Pro 365, a new way to enjoy ACID Pro. Users get all the power and functionality of the regular ACID Pro 8 but enjoy all future updates, full support plus additional instruments and effects for monthly fee of just $7.99 USD.
More information: Magix