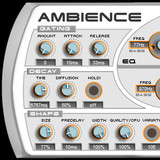 Magnus at Smartelectronix has set free Ambience, a reverb effect plug-in for Windows and Mac.
Ambience is a reverb that rivals the quality of the best commercial reverbs.
Ambience features
Separate dry/wet controls (set direct to -inf to use as a send effect.
Reverb time & room size parameters.
Predelay to set the amount of delay between the direct sound and the onset of the first echoes.
Width control for setting mono/wide stereo.
Quality knob for lower CPU usage (is less quality).
Variation button creates a new variant of the same room.
Damping section for bass and treble (control the decay time).
EQ section for filtering frequencies.
Gating allows the reverb to follow the dynamics of the audio input.
Hold button freezes current sound.
Diffusion for subtle effect on the sound. It is especially noticable with small room sizes.
A nag-free version of Ambience is available to download as a donationware effect plug-in for PC and Mac (VST/AU; 32bit/64bit).
More information: Magnus' Plugins / Ambience